Fish Hunt
Montreal, March 1999


I went fishing once and caught this really big fish. The thing was as big as a house, it took 13 of us to bring him in. Hey, I'm not kidding, it really happened!

On a less light note, there's something sad about seeing a beautiful fish flapping to death on the end of a fish line.

Leave a comment


Tue May 4 19:58:39 2004 from charles kinsey < [email protected] >

I did notice first the overall feel of first impression...It was warm,then I noticed the diver was shooting the fish,then I saw the line in its mouth.it very american lol.it's big unusual shoot it!!!lol....Well done art,i like this one a bit more than others,the black and white was better to me than many others i've seen.I also have felt sad watching a fish die after being caught,perhaps because i wasn't visualizing it on a bun ,as dinner.???
---
Mon May 17 17:30:43 2004 from Adamina. < [email protected] >
I found this one to be very comical. There is something comforting about finding a gigantic goldfish. It reminds me of my childhood. I think I like this one best.
---
Mon May 17 17:36:34 2004 from Adamina. < [email protected] >
No, wait. I know why I found it so funny. The first time I looked at it, I saw the people as being little, not the goldfish as being large...assuming it is a goldfish. You can decide whether that's really funny or not. I turned my computer back on just I could say this.
---
Mon May 24 10:29:20 2004 from lope
Hey cool. Never saw it that way before.
---
Sun Jun 12 22:47:15 2005 from jelena curcic < [email protected] >
i love eating the fish but this is just puts it in a nutshell of how i feel when people don't respect a fishing quota and go overboard with commercial fishing....
---
Thu Sep 29 15:34:49 2005 from Lope < lope_away at yahoo dot com >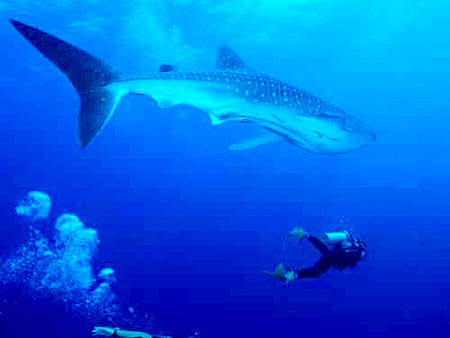 The Whale Shark - nature's largest fish.
---